EXHIBITION 6/21-6/30 | Yoshie Itasaka Photo Exhibition『One Person's Utopia is Another's Dystopia -Journey through the Land of Israel-Palestine-』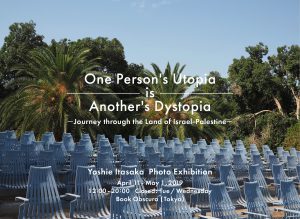 EXHIBITION|
Yoshie Itasaka Photo Exhibition
『One Person's Utopia is Another's Dystopia -Journey through the Land of Israel-Palestine-』
[会期]2019年6月21日(金)- 6月30日(日)
[時間]平日 10:00-19:00/土日祝 10:00-19:00
[会場]MARÜTE GALLERY
[入場]無料
STATEMENT |
ユダヤ人ーイスラエル人。
そしてイスラエルという国を理解するのは、世界の複雑さを
理解する事と同様に、とても難解な事なのだろうと
Zeev Sternhell氏の著書"The Founding Myths of Israel"を読み進めながら、
イスラエルーパレスチナの土地を旅した。

シオニストが夢見たユートピアー社会実験の失敗
イスラエルの贖いーイデオロギーが生む不協和
引き返せない過去、社会的・政治的矛盾への葛藤
変化してゆく世界情勢ー国家イデオロギー、終わらない紛争。

全ての"ニンゲン"の理想が実現される
ユートピアを創造することは不可能である現実を知る。

中東問題は西欧的価値観で外面を見ていては理解できない
様々な思想(信念)や宗教を持つアラブ人や、
世界中から異なる歴史的バックグラウンドを抱えて
集まったユダヤ人とが、其々に異なる時代の流れ(紛争)を経て
この土地に存在している。

其の地の真実は、其の地を訪れなければ理解することができない。
私たちは其々が信じたい "Belief"に寄り添い、
メディアや他者から受け取る情報(イメージ)を頼りに
妄想しては取捨選択してゆくから。

如何に知識と想像力を持って、
相反する世界観を越えてゆけるだろう
Every constructed reality is a myth,
and the more people carry it on, the more real it becomes.
Until you manage to look behind the surface
PROFILE | Yoshie Itasaka
1984年、大阪生まれ。バンタンデザイン研究所 ファッション学部スタイリスト科卒業。2010年より放浪旅を始め、北米大陸を2年間、ヨーロッパ大陸(北欧、東欧、旧ソ連圏、旧ユーゴスラビ ア含む)を6年以上放浪中。2018年はロシア、東ウクライナ、イスラエル、パレスチナ(左岸)を旅し、現在一時帰国中。原宿ROCKETにて「失恋レストラン」「New Alive Food」「New Journey Restaurant」「What' s New Georgia!!!」等の企画展を開催。『Rocket Magazine Vol.03 』『BIRD4号』などに写真や文章を寄稿。 2017年にジョージアを旅した記録を写真集『Reality of Here and There』としてリトルプレスにて出版。2018年 4月、写真家・若木信吾が故郷・浜松市にオープンした写真集専門書店BOOKS & PRINTS KAGIYA Galleryにて写真展「The Future of the Past」を開催。
//////////////////////////////////////////////////
English ver
"One Person's Utopia is Another's Dystopia"
-Journey through the Land of Israel-Palestine-
Jewish-Israeli.
…I learned that understanding the country of Israel is as difficult as understanding the complexity of the world, while reading
Zeev Sternhell's book 'The Founding Myths of Israel' and travelling to the land of Israel-Palestine.
Utopia dreamed by Zionist- Social experiment failure
Discord caused by Israeli ideology
The past which can not return
Conflict over social and political contradictions
Changing world affairs-National ideology-Endless war.
We know the reality, that it is impossible to create an utopia in which all human ideals are realized.
The Middle East problem can not be understood by looking at the outline with Western values.
The Arabs with various ideas (beliefs) and religions, and the Jews gathered from different places in the world with different historical backgrounds, have developed through different periods of time (conflict), Now they both are settled in the Land of Palestine…
One will not be able to understand the land truly unless one visits it.
We want to believe in our " beliefs ", and we rely on the information (images) we receive from the media and others, and we will select it.
How can we have knowledge and imagination and transcend conflicting world views?
Every constructed reality is a myth,
and the more people carry it on, the more real it becomes.
Until you manage to look behind the surface
-Yoshie Itasaka–
Born in Osaka in 1984
Started the nomadic journey in 2010. From 2010-2013, travelled North America. Then, from 2013-2018, travelled around Europe (include the former Soviet countries,former YugoSlavia),Russia,Israel
https://www.instagram.com/hungry_ban/
/////////////////////////////////////////////////////////////////////////////////////////////////
タイトル:『One Person's Utopia is Another's Dystopia -Journey through the Land of Israel-Palestine-』
仕様:18.2×25.7cm (B5) 32P
販売価格:¥1,500+税
出版:自費出版 | ソフトカバー
限定250部 テキスト 全文英文
*展示に合わせて刊行されたドキュメンタリー写真ZINE
/////////////////////////////////////////////////////////////////////////////////////////////////